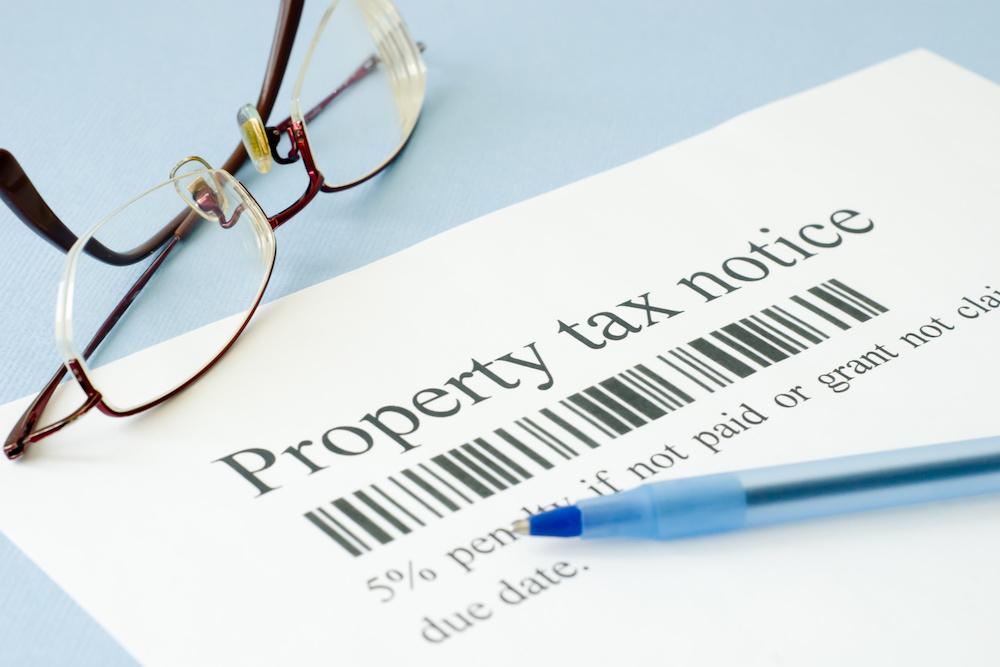 With an effective property tax rate of 3.64 percent, Bureau County has the highest tax rate among Illinois counties, according to an ATTOM Data Solutions analysis of property taxes levied on single-family homes.
The data shows Bureau County has 11,821 single-family homes with an average estimated value of about $85,000. The average tax amount is $3,092. The effective tax rate is the percentage of a home's value the owner pays in property taxes.
Rounding out the top five counties with the highest effective property taxes are Winnebago (3.19 percent), Coles (3.12 percent), Kendall (2.95 percent) and DeKalb (2.88 percent).
Effingham County (0.91 percent) had the lowest ranked property tax rate in Illinois. Only those counties with at least 10,000 single-family homes -- a total of 1,414 U.S. counties in all -- were part of the ATTOM Data Solutions analysis.
Property tax rates for Illinois counties
| | | | | | | |
| --- | --- | --- | --- | --- | --- | --- |
| County | Metro Area | Population | Number of Single-Family Homes | Average Estimated Value | Average Property Tax Amount | Effective Property Tax Rate |
| Bureau | Ottawa-Peru, IL | 34,115 | 11,821 | $ 85,027 | $ 3,092 | 3.64% |
| Winnebago | Rockford, IL | 290,439 | 82,399 | $ 105,871 | $ 3,380 | 3.19% |
| Coles | Charleston-Mattoon, IL | 53,037 | 17,308 | $ 83,428 | $ 2,606 | 3.12% |
| Kendall | Chicago-Naperville-Elgin, IL-IN-WI | 120,036 | 32,763 | $ 219,228 | $ 6,474 | 2.95% |
| De Kalb | Chicago-Naperville-Elgin, IL-IN-WI | 104,345 | 27,612 | $ 171,276 | $ 4,934 | 2.88% |
| Mchenry | Chicago-Naperville-Elgin, IL-IN-WI | 307,357 | 104,813 | $ 226,028 | $ 6,383 | 2.82% |
| Kane | Chicago-Naperville-Elgin, IL-IN-WI | 524,886 | 134,636 | $ 235,772 | $ 6,517 | 2.76% |
| Lake | Chicago-Naperville-Elgin, IL-IN-WI | 702,898 | 199,165 | $ 332,413 | $ 8,990 | 2.70% |
| Peoria | Peoria, IL | 187,112 | 62,246 | $ 123,518 | $ 3,330 | 2.70% |
| Jackson | Carbondale-Marion, IL | 59,534 | 15,530 | $ 96,322 | $ 2,491 | 2.59% |
| Kankakee | Kankakee, IL | 112,221 | 35,735 | $ 136,904 | $ 3,537 | 2.58% |
| Rock Island | Davenport-Moline-Rock Island, IA-IL | 147,161 | 52,001 | $ 111,690 | $ 2,855 | 2.56% |
| Henry | Davenport-Moline-Rock Island, IA-IL | 49,883 | 19,842 | $ 103,580 | $ 2,639 | 2.55% |
| Knox | Galesburg, IL | 52,112 | 18,551 | $ 81,723 | $ 2,055 | 2.51% |
| Livingston | Pontiac, IL | 37,689 | 10,877 | $ 104,580 | $ 2,619 | 2.50% |
| Mclean | Bloomington, IL | 173,114 | 50,642 | $ 171,428 | $ 4,217 | 2.46% |
| Macon | Decatur, IL | 109,193 | 40,329 | $ 98,251 | $ 2,405 | 2.45% |
| Whiteside | Sterling, IL | 57,525 | 20,749 | $ 94,370 | $ 2,308 | 2.45% |
| Woodford | Peoria, IL | 39,106 | 11,983 | $ 164,074 | $ 4,002 | 2.44% |
| Boone | Rockford, IL | 53,851 | 15,293 | $ 168,362 | $ 4,104 | 2.44% |
| Saint Clair | St. Louis, MO-IL | 267,029 | 76,650 | $ 126,432 | $ 3,034 | 2.40% |
| Ogle | Rochelle, IL | 52,397 | 16,059 | $ 125,663 | $ 3,012 | 2.40% |
| Will | Chicago-Naperville-Elgin, IL-IN-WI | 683,995 | 225,077 | $ 233,701 | $ 5,554 | 2.38% |
| Lee | Dixon, IL | 35,027 | 11,776 | $ 101,820 | $ 2,410 | 2.37% |
| Sangamon | Springfield, IL | 199,016 | 69,985 | $ 133,200 | $ 3,089 | 2.32% |
| Montgomery | | 29,348 | 10,774 | $ 68,790 | $ 1,589 | 2.31% |
| Tazewell | Peoria, IL | 135,697 | 49,627 | $ 139,089 | $ 3,154 | 2.27% |
| Iroquois | | 29,053 | 11,535 | $ 95,423 | $ 2,152 | 2.26% |
| Champaign | Champaign-Urbana, IL | 205,766 | 48,241 | $ 159,581 | $ 3,528 | 2.21% |
| La Salle | Ottawa-Peru, IL | 112,579 | 38,405 | $ 109,081 | $ 2,404 | 2.20% |
| Du Page | Chicago-Naperville-Elgin, IL-IN-WI | 930,412 | 261,860 | $ 359,027 | $ 7,801 | 2.17% |
| Cook | Chicago-Naperville-Elgin, IL-IN-WI | 5,236,393 | 851,277 | $ 284,149 | $ 5,964 | 2.10% |
| Grundy | Chicago-Naperville-Elgin, IL-IN-WI | 50,277 | 16,698 | $ 194,772 | $ 4,051 | 2.08% |
| Madison | St. Louis, MO-IL | 267,356 | 90,062 | $ 138,394 | $ 2,838 | 2.05% |
| Clinton | St. Louis, MO-IL | 37,929 | 12,469 | $ 133,522 | $ 2,720 | 2.04% |
| Morgan | Jacksonville, IL | 35,129 | 11,483 | $ 99,143 | $ 2,019 | 2.04% |
| Christian | Taylorville, IL | 34,200 | 13,738 | $ 88,618 | $ 1,743 | 1.97% |
| Vermilion | Danville, IL | 80,368 | 28,975 | $ 77,661 | $ 1,472 | 1.90% |
| Monroe | St. Louis, MO-IL | 33,539 | 10,712 | $ 208,911 | $ 3,766 | 1.80% |
| Jefferson | Mount Vernon, IL | 38,578 | 11,231 | $ 86,135 | $ 1,547 | 1.80% |
| Randolph | | 33,069 | 10,533 | $ 82,560 | $ 1,480 | 1.79% |
| Stephenson | Freeport, IL | 46,625 | 16,727 | $ 143,308 | $ 2,513 | 1.75% |
| Macoupin | St. Louis, MO-IL | 46,844 | 18,321 | $ 90,898 | $ 1,588 | 1.75% |
| Crawford | | 19,541 | 13,315 | $ 64,276 | $ 1,034 | 1.61% |
| Williamson | Carbondale-Marion, IL | 67,121 | 23,243 | $ 105,682 | $ 1,682 | 1.59% |
| Saline | | 24,783 | 10,652 | $ 72,253 | $ 1,136 | 1.57% |
| Fulton | Canton, IL | 36,323 | 13,737 | $ 101,566 | $ 1,566 | 1.54% |
| Franklin | | 39,694 | 17,436 | $ 83,930 | $ 1,125 | 1.34% |
| Effingham | Effingham, IL | 34,332 | 12,094 | $ 136,090 | $ 1,236 | 0.91% |
Source: ATTOM Data Solutions