Illinois congressmen join House colleagues in urging CMS to act on CAR T-cell treatment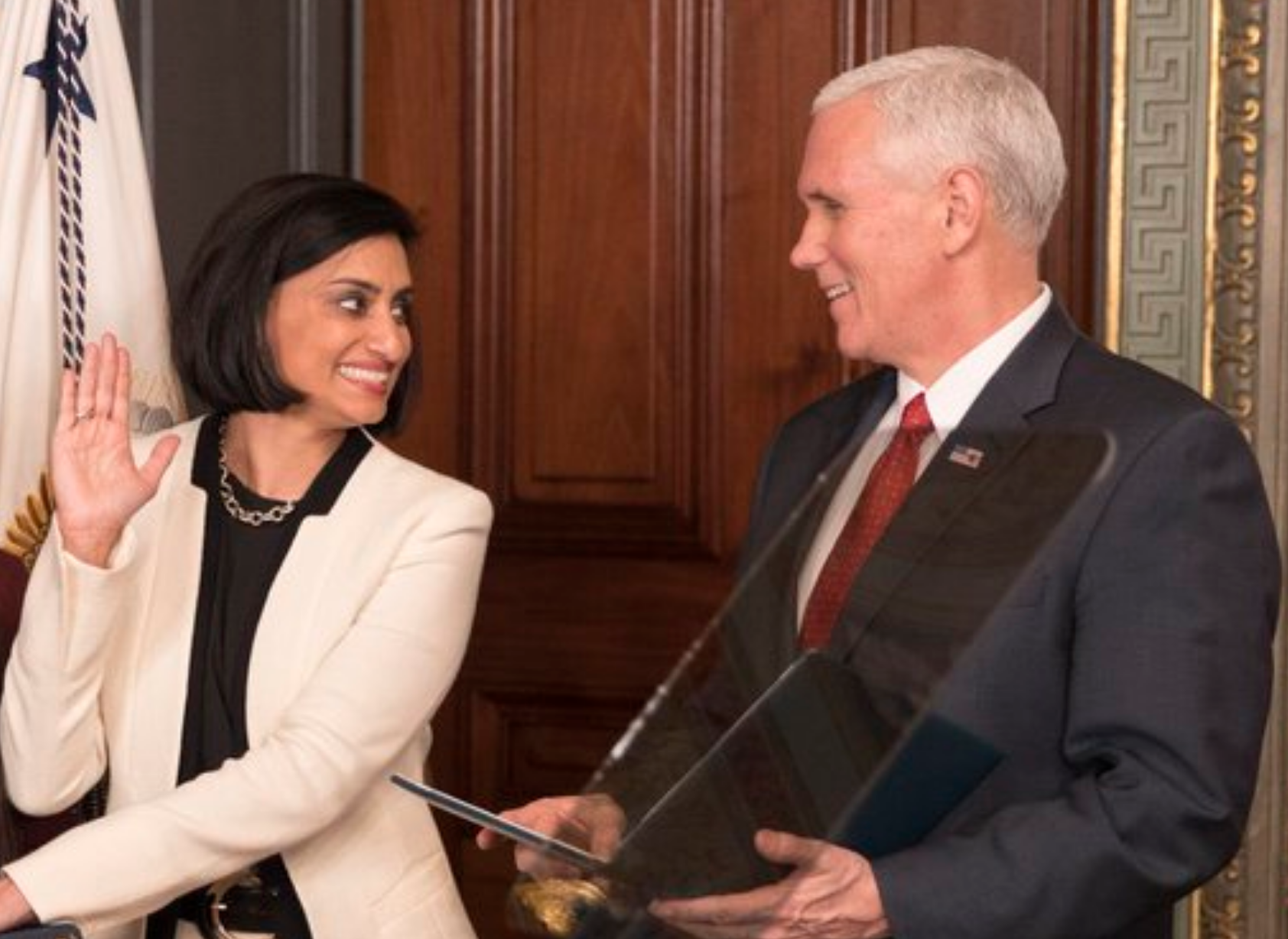 Center for Medicaid and Medicare Services Administrator Seema Verma being sworn into office by Vice President Mike Pence.
Three Illinois congressmen have signed on to a bipartisan effort to urge Center for Medicaid and Medicare Services Administrator Seema Verma to act to ensure that patients can access, and hospitals are properly reimbursed, for the chimeric antigen receptor T-cell (CAR T-cell) treatment in the 2021 fiscal year.
CAR T-cell is a one-time infusion of engineered cells used to fight some blood cancers, and it is an expensive one. Estimates put this treatment at $400,000, and with hospital costs, the final number can be as high as $1.5 million.
Illinois congressmen Bradley S. Schneider (D-IL-10), Bill Foster (D-IL-11) and Darin LaHood (R-IL-18) joined 73 other elected officials in the call for action.
"Rural patients already face potential access challenges due to their lack of immediate proximity to authorized treatment centers and highlight the importance of maintaining access to those facilities located within reasonable proximity that can provide this therapy to neighboring rural areas," the legislators wrote in a letter to Verma. "However, the stress of the reimbursement gap can have a detrimental effect on facilities that treat a large share of the Medicare patient volume. We are concerned that there will be a negative impact on the access landscape, especially for Medicare patients living in rural areas."
Not having a permanent payment mechanism can halt patient access, legislators say.
CMS gave the treatment a new technology add-on payment (NTAP) for FY2020, because of the high cost of the technology needed for the treatment. The problem is, that payment mechanism was a short-term fix and is set to expire on Sept. 30, unless Verma and the CMS act again. Lawmakers, drug companies, patient and provider groups are all asking for the treatment to get its own Medicare Severity-Diagnosis Related Group (MS-DRG), so that hospitals don't face a reimbursement cliff and choose not to offer the service, which is already hard for patients in rural areas to access.
Want to get notified whenever we write about Center for Medicare & Medicaid Services ?
Sign-up Next time we write about Center for Medicare & Medicaid Services, we'll email you a link to the story. You may edit your settings or unsubscribe at any time.
Organizations in this Story
Center for Medicare & Medicaid Services
More News